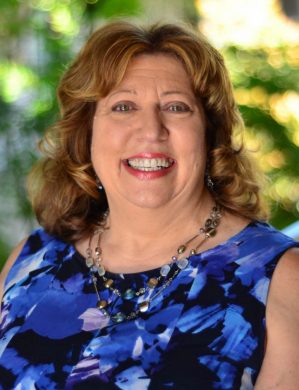 Linda Carlos, MA

Licensed Marriage and Family Therapist, #27723
916-685-5258 ext. 11
Specializing in Couples & Single Adults
Personal Growth • Relationship Attunement • Trauma & Anxiety Relief • Living Wholeheartedly
"Sometimes the bravest and most important thing you can do is just show up."
~Brene Brown

Therapy is for You (Individuals, Couples and Families)
I have had the privilege to come alongside my clients in their life challenges and help them grow, heal and move forward in healthier ways. In becoming who we are today, we all have faced difficulties and obstacles because life is hard! Many of us discover in time that we have carried wounds from our past that have caused us to develop unhealthy ways of coping with our pain. These can show up in symptoms like depression, anger, anxiety disorders, addictions, and other compulsive behaviors. The good news is that we can learn to reduce and overcome these symptoms through proven successful approaches based in the latest advances in neuroscience and human development (attachment theory).
I love working with both individuals and couples, and to focus on connecting well in relationships (from dating through empty nesters and beyond). I also have a passion to help those who are Single or Single Again to live from a place of wholeness and abundance, and to know they too are included and essential.
For couples with marital issues and those thinking about getting married, I am a certified instructor for PREPARE/ENRICH, a program used for premarital counseling, marriage counseling and marriage enrichment. The program includes a comprehensive online couple assessment along with feedback using skills-building exercises. I am also trained in the evidence-based Gottman Method for marital counseling and improving relationship and communication skills which has been very successful for thousands of couples.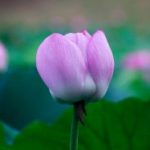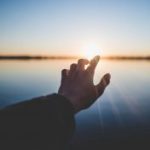 My areas of specialty are trauma recovery and PTSD (Post Traumatic Stress Disorder), including events involving death, assault, deployment, and accidents. I am trained in EMDR (Eye Movement Desensitization and Reprocessing) and have completed training approved by the EMDR International Association. EMDR is a very effective method for healing traumas of any kind and is also used with correcting negative beliefs (lies) about ourselves that have hindered us from living fulfilled lives. It is wonderful to see concrete results and relief for many of my clients almost immediately. For more information, I encourage you to visit the EMDRIA website at http://www.emdria.org and EMDRInAction.
My counseling style is real, interactive, strong and grace-giving, sharing who I am with clients appropriately. I use an integrative approach, bringing both my clinical training and seminary training into my therapy, though anyone not seeking this approach will receive my utmost respect and sensitivity to their world view.
In addition to my practice, I serve as the Clinical Supervisor at Community Counseling Associates, Former Adjunct Faculty at Western Seminary, and on the Board of Directors for Mission of Grace Foundation.
"When we are no longer able to change a situation, we are
challenged to change ourselves."
~ Viktor Frankl

My Practice
I enjoy creating, developing, serving and making a difference. Having been in Private Practice since 1992 and providing therapy since 1986, I can attest to being a lifelong learner in many aspects of my professional life in order to become proficient at my occupation.
In addition to professional, competent therapy, I want to offer my clients strong business practices along with modeling relational, emotional and mental health habits. The healthier my practice, the more I can offer:
Effective services and approaches in which I have advanced training
A concierge practice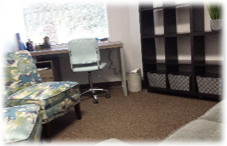 A welcoming and comfortable office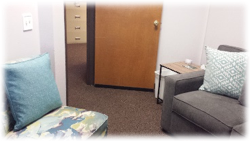 The benefit of my having received ongoing consultations, and colleagues' expertise
The more ability my business has to stay strong and help others
A concierge practice is one which operates intentionally on a smaller scale, and embraces a client-centered philosophy.
Therapists are more accessible. Clients benefit from a transparent process of online accessible forms and assessments, online messaging, and using our HIPAA -secure portal. I am also able to provide an alternative to the pathology (sickness) based medical model. (Providers practicing within the medical model are paid according to their patient's diagnosis and authorized treatment plan.)
My concierge setting allows me to better serve you with increased privacy and attention, less paperwork, a more comfortable setting, and a personalized approach.
About Eye Movement Desensitization & Reprocessing (EMDR):
EMDR can work quickly and effectively to reduce emotional disturbances caused by childhood and adult traumas, disturbing memories, negative self-talk and negative beliefs about ourselves.
It can also reduce hurt and pain associated with health issues, relationship hurts, grief and loss, work or school related issues or frightening events.
After EMDR, you may no longer relive the images, sounds, and intense feelings when you recall what you went through. Even though you still remember what happened, it can be much less disturbing as you recall it.
"I have seen Linda individually and for marriage counseling with my husband. Linda is very easy to talk to and is not judgmental. On an individual level, Linda has helped me with my anxiety, OCD, self-esteem, ability to speak up for myself, career decisions after becoming an empty nester, faith questions, and more. As a married couple, Linda helped my husband and I with many issues: communication, control, anger, drinking, and parenting. I am eternally grateful for the help that Linda continues to provide for me."

~ K.L.

"I wanted to learn coping skills for all the expectations that overwhelmed me. Linda taught me how to communicate clearly and directly. I developed good interpersonal skills and modeled these behaviors to my daughter who has remarked that she learned to be an effective communicator from watching me. Linda is a great coach, teacher and mentor."

~ C.R.
TRAINING
Prepare & Enrich
EMDR
Gottman Method
Critical Incident Stress Debriefing
EDUCATION
M.A. Theology, M.A., MFT, Fuller Theological Seminary, Pasadena, CA

B.A. Psychology, California State University, Sacramento, CA
Professional Affiliations
California Association of Marriage and Family Therapists (CAMFT), Clinical Member, 1991 – present
CAMFT, Sacramento Chapter, Clinical Member, 2010 – Present
Cofounder, Covenant Counseling Services, 1992; now known as Community Counseling Associates, a nonprofit organization.
Licensed Associate, Creekside Counseling Associates
Licensed Associate, Gold River Christian Counseling Associates
Professional Experience
Licensed Marriage & Family Therapist in full time private practice since 1992
Supervisor of MFT associates & trainees since 1993
Adjunct Faculty, Western Seminary, 2009 – 2014
Seminar & Workshop Leader with special interest in Developmental and Recovery Issues, Visioning and Defining Your Mission, Practical Faith, Singleness
AVAILABILITY
Telehealth Appointments are available for California Residents.
Mondays – Gold River:
Fridays – Gold River:
(Tuesday – Thursday, I am at my Elk Grove Office)
PRICING
Pricing for Counseling/Therapy Sessions:
50 minute Initial Assessment: $160
50 minute therapy session: $160
80 minute therapy session (Save 20%): $200
Client Appreciation Deal
After the Initial Assessment and at any time during
the course of therapy, packages of 6 sessions for the price of 5
can be purchased. These discount packages are for 50-minute
sessions, must be paid for up front, and are nonrefundable.
Six 50 minute therapy sessions for the price of five: $800 Save $160!
Pricing for EMDR Therapy Sessions:
50 minute Initial Assessment: $180
50 minute EMDR therapy session: $180
80 minute EMDR therapy session (save 10%): $240
For payment, I accept:
Cash • Checks • Debit Cards • Credit Cards • Health Savings & Flex Spending Accounts
HELPFUL DOWNLOADS
Our office suite is located directly above the European bakery in our complex. Park near it and come up the stairs, or if you need handicap or elevator you should park at the rear of the building. Current codes for our restrooms, located in the breezeways, are kept in the top drawer of the small table just inside our waiting room.
Please call me at (916) 685-5258 ext. 11, or use the form below to schedule an appointment or gain more information.
Locations
Gold River Christian Counseling Associates
11344 Coloma Road, Suite 250
Gold River, CA 95670
Hours
Varies by Therapist
Contact
See Therapist pages to connect with someone
Powered by Love.